The European Commissioner for Human Rights, Nils Muižnieks recently commented upon the failure of many European countries to understand their obligations under the United Nations  Convention on the Rights of Persons with Disabilities  (CRPD) – including in relation to the right to inclusive education under Article 24.
He also identified the practice of "rebranding" of segregated education to avoid committing to make education systems genuinely inclusive:
 "[C]ountries appear to be willing to settle for some form of segregation and rename segregated forms of education under a more acceptable brand (such as 'appropriate education' in the Netherlands) or even as inclusive education (for instance 'inclusive education centres' in Romania)."
The Commissioner made these comments just prior to releasing his position paper reviewing the last 5 years of the implementation of Article 24 of the CRPD across European jurisdictions, entitled "Fighting School Segregation in Europe through Inclusive Education".  That paper notes that:
"Separate schooling of children with disabilities is a widespread practice across Europe notwithstanding the fact that Article 24 of the UN Convention on the Rights of Persons with Disabilities (UNCRPD) imposes on states a duty to ensure that children with disability can access 'an inclusive, quality primary and secondary education on an equal basis with others in the communities in which the live.'" [p7]
Article 24.1, which also applies to Australia as a State Party to the CRPD, provides that "State Parties shall ensure an inclusive education system at all levels … ."
Article 24.2 of the CRPD further requires State Parties to ensure that:
Persons with disabilities are not excluded from the general education system on the basis of disability, …;
Persons with disabilities can access an inclusive, quality and free primary education and secondary education on an equal basis with others in the communities in which they live;
Reasonable accommodation of the individual's requirements is provided;
Persons with disabilities receive the support required, within the general education system, to facilitate their effective education; and
Effective individualised support measures are provided in environments that maximize academic and social development, consistent with the goal of full inclusion."
The meaning of "inclusive education" and the scope of Article 24 were recently clarified in  General Comment No. 4 which was issued on 26 August 2016 by the United Nations Committee on the Rights of Persons with Disabilities (Committee).  General Comment No.4 highlights the need to distinguish between  "exclusion", "segregation", "integration" and "inclusion" and provides definitions for those terms (paragraph 11).  Notably, it provides that:
"Segregation occurs when the education of students with disabilities is provided in separate environments designed or used to respond to a particular or various impairments, in isolation from students without disabilities."
Ambiguity as to what is meant by "inclusive education" has, to some extent, complicated efforts to implement inclusive education systems.  It has certainly made it easier for systems that are averse to change and desegregation to argue that educational segregation of students with disability is a legitimate part of an inclusive education system (see "Towards inclusion: an Australian perspective" (2007), Fiona Forbes).  It has also contributed to the "rebranding" of segregated models in seemingly more "palatable" guises, especially in light of increasing calls for the implementation of inclusive education from a moral, human rights and best evidence perspective.
For over 40 years, the body of relevant research into education of students with disability has overwhelmingly established that inclusive education produces superior social and academic outcomes for all students.   Further, the research has consistently found that academic and social outcomes for children in fully inclusive settings are better than in segregated or partially segregated environments where children are segregated for part of their school day.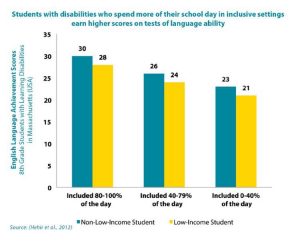 Source:  "A Summary of the Evidence on Inclusive Education" (2017).
General Comment No. 4 has now made it clear that education in segregated settings, whether separate special schools or special support units co-located with a regular school, is not "inclusive education" within the meaning of Article 24.
There is a wide range of names that are sometimes given to segregated education facilities or classrooms across the Australian education system.  If you are unsure whether a segregated environment is being proposed for your child, either for all of their school time or for part of it, it is important to ask questions to identify the nature of the arrangement, regardless of what it is called.  At a fundamental level, is your child being grouped with other students with disabilities in separate environments in isolation from students without disabilities?  If so, then education is going to be delivered to your child in a segregated setting to the extent that they are within that separate setting, which is incompatible with their right to an inclusive education.  The fact that the separate segregated setting may be co-located with or even within a regular school does not make the setting "inclusive".
The following are some examples of names that are given to segregated education settings for students with disability or where students who are labelled as having learning or behaviour issues are segregated – in some cases they are "official" names, in others they are the "colloquial" names used by educators, students and families.
ACT:
Achievement Centre
Flexible Learning Centre
Learning Studio
Learning Support Centres (LSC)
Learning Support Units (LSU)
Learning Support Units Autism (LSU-A)
Multi Categorical Class
Specialist School
Northern Territory:
Autism Spectrum Disorder (ASD) Program
Specialist Centre
Specialist Program
Specialist School
New South Wales:
Disability Program
Early Intervention Unit
Education Support Unit (ESU)
Emotionally Disturbed (ED) Class
Learning Program With Specialised Staff
Personalised Learning and Support
Reading Recovery Program
School for Specific Purposes (SSP)
Special Class
Special Needs Support
Specialist Support Class
Special School
Support Class
Support Unit
Life Skills Class
Queensland:
Alternate Class (A1)
At-School Camp (Autism Program)
Diverse Learning Program
Early Childhood Development Program (ECDP)
Education and Therapy Centres (Autism Schools)
Individual Curriculum Plan (ICP) Classes
Learning Enrichment Centre
Life Skills Program
Resource Centre
Structured Learning Environment
Special Assistance School
Special Education Program (SEP)
Special Education Unit (SEU)
Specialist School
Technology Club (Autism Program)
South Australia:
Autism Intervention Program
Disability Unit
Education Centre
Inclusive Preschool Program (IPP)
Interception Room
Life Education Curriculum/Class
Nurture Class
Oral Aural Unit
Special Education Centre
Special Needs Centre
Special Options Class
Special School
Victoria:
Learning Support Unit/Class
Special Developmental School
Specialist School
Western Australia
Education Support Centre
Education Support Primary School
Education Support Unit
Inclusive Learning Unit
This not an exhaustive list, but some examples that have been provided to us by families and educators.  If you are aware of any other names for these types of settings, please contact us so that we can continue to add to this list.
[
Cover photo © Anton Sukhinov
]
Thank you for visiting our website.  You can also keep up with our mission by liking our Facebook page or following us on Twitter @allmeansallaus