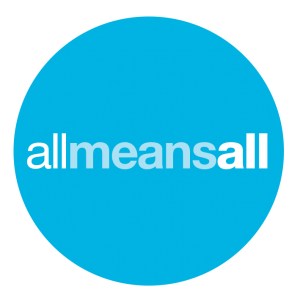 Submission  
Draft General Comment No. 6 on Article 5 (Equality and Non-discrimination) of the Convention on the Rights of Persons with Disabilities (CRPD)  
30 November 2017
You can read this Submission on the United Nations Human Rights – Office of the High Commissioner here.
INTRODUCTION
All Means All is the Australian Alliance for Inclusive Education, a nationwide multi-stakeholder alliance working together to implement an inclusive education system and remove the legal, structural and attitudinal barriers that limit the rights of some students to access full inclusive education.
All Means All commends the work of the Committee on the Rights of Persons with Disabilities (the Committee) in seeking to develop General Comment No. 6 as guidance for State Parties in implementing their obligations under Article 5 of the CRPD and to clarify the inter-relationship between Article 5 of the CRPD and the other more subject-specific Articles of the CRPD.
All Means All thanks the Committee for the opportunity to make a submission on Draft General Comment No.6, and in particular to comment upon the relevance of Article 5 (Equality and Non-discrimination) to the right to an inclusive education under Article 24 (Education), as recently clarified by the Committee in General Comment No. 4 (Right to Inclusive Education).
COMMENTARY
All Means All has had the opportunity to consider, in particular, the following submissions in relation to Draft General Comment No. 6:
–        Australian Government – submission dated 15 November 2017;
–        Children and Young People with Disability Australia – submission dated November 2017; and
–        Queensland Advocacy Incorporated – submission dated 14 November 2017.
All Means All endorses generally the submissions of Children and Young People with Disability Australia and Queensland Advocacy Incorporated. In particular, All Means All, with a focus on inclusive education, agrees that:
(a)          Draft General Comment must recognise the obligation of State Parties under Article 5 to replace Medical Deficit Model-based laws and policies
The medical deficit model in relation to disability, which as the Australian Government submission acknowledges continues to underlie a number of Australian Commonwealth and State laws and policies (including in the education context), perpetuates continued inequality and discrimination against people with disability and reinforces attitudinal barriers to inclusion, equality of opportunity and full participation of people with disability.  The medical deficit model, being inconsistent with the human rights model of disability and the principles of inclusive equality and substantive equality of opportunity, upon which the CRPD and in particular Article 5 is based, is counter-productive to the extent it continues to underlie the form or operation of domestic laws, policies and practices and must be systematically and immediately removed and replaced by State Parties in discharge of their obligations under Article 5.
This requirement for systemic review and replacement of medical deficit model concepts should be clearly and positively incorporated into the General Comment.
(b)          The General Comment should contain Specific and Fuller Articulation of Exclusionary and Segregating Education Practices as being Discriminatory
The failure of State Parties to provide access to genuinely inclusive education in general education classroom settings and equality of educational opportunity and to implement effective is discriminatory and not only a breach of Article 24, but also a breach of Article 5.
Although the Draft General Comment in paragraph 72 "calls on State Parties to be guided by … General Comment No. 4" on the Right to Inclusive Education in fulfilling their obligations under Articles 5 and 24, All Means All submits that the final General Comment should itself identify and articulate the full cross-section of segregating education practices, from segregation in separate "special" schools or units to micro-segregation or micro-exclusion within the walls of a regular classroom, as well as specifying that the use of restrictive practices in the education context is itself a form of discrimination and amounts to denial of equality of opportunity.
In Australia, following its ratification of the CRPD, the education of students with disability in segregated settings has in fact increased relative to education in general education classroom settings[1] and segregated settings and segregated education practices are being rebranded as "inclusive education centres" and "inclusive education practices"[2].
These developments are not specific to Australia.  Given that the research evidence has demonstrated for many decades that segregation in education and restrictive practices mark the commencement of the low-expectations pathway to social and economic exclusion, discrimination and the denial of equality of life-long opportunities[3], the interaction between Article 5 and segregating and exclusionary education practices warrant specific and more comprehensive treatment in this General Comment.
(c)          Domestic Law tests for "Discrimination" are too narrow, limited and focus on formal equality of treatment of individuals, rather than substantive and systemic                           equality in opportunity
Australian federal and State anti-discrimination laws purport to support the equality and non-discrimination of students with disability in education.  However, despite repeated reviews of the Disability Standards for Education 2005 made under the Disability Discrimination Act 1992 (Cth), recent research suggests the discrimination of students with disability is pervasive and lacks effective complaint mechanisms and sanctions to be responsive to grievances of individuals, and even less so to systemic issues[4].
All Means All repeats the succinct and accurate description by Queensland Advocacy Incorporated [para 12] of the key failings of Australian anti-discrimination laws that purport to further, amongst others, the provisions of Articles 5 and 24 of the CRPD:
"a)          A predominantly individualistic approach to a systemic problem;
b)          an inappropriate test (the comparator test) is used to identify discriminatory action;
c)          the model aspires to achieve formal, rather than substantive, equality;
d)          there is a focus on negative, rather than positive or affirmative, action;
e)          the lack of effective sanctions or remedies; and
f)          the exceptions, exclusions and exemptions narrow the scope of the laws."
All Means All also repeats the submission of Children and Young People with Disability Australia [para13] for the Draft General Comment to emphasise the need for the focus to be on the substantive "effect" of domestic laws, policies and practices on discrimination against and equality of opportunity of people with disability, including students.
It is critical to recognise the vulnerabilities of students with disability who suffer discrimination, and their families. These vulnerabilities can mean that it is more difficult for them to assert rights and complain about discrimination under the current system. In particular, many parents are reluctant to bring complaints if they want to maintain a relationship with the discriminator, whether a school, school Principals or educators. Further, the costs and time periods involved in achieving redress through legal means are significant roadblocks.  Too often, parents are not made aware of their children's educational rights and are not in a position to identify that discrimination has occurred in the first place.
Appropriate mechanisms that provide for independent, effective, accessible, transparent, safe and enforceable complaints mechanisms and legal remedies in respect of discrimination in the provision of education to students with disability must be made a priority for reform.
Further, advocacy organisations should be provided with the ability to bring complaints of systemic discrimination, to remove the burden from individuals and address systemic and repeat incidents of discrimination.
(d)         The Draft General Comment must strongly emphasise the relevance of the framing of broader governmental and health policy and the media's portrayal of people with disability to the entrenchment of cultural attitudinal barriers to the realisation of equality and non-discrimination under Article 5
All Means All supports the submission of Children and Young People with Disability Australia [paras 5 and 8] that it would be instructive and beneficial for the Draft General Comment to include positive guidance on framing laws policies and media discussion concerning disability in a manner:
–        conducive to a rights-based or 'rights-holders' approach;
–        consistent with the human rights or social model of disability and principles of substantive inclusion, non-discrimination and equality of opportunity; and
–        respectful of disability as part of human diversity.
Inclusion and belonging in education depends upon positive and systemic cultural acceptance of people with disability as 'rights-holders' and equal members of our diverse human family.
______________________________________________________
[1] See Australian Bureau of Statistics 2013, view showing 17% disproportionate increase in segregated special schools between 1999-2013 http://www.abs.gov.au/AUSSTATS/abs@.nsf/DetailsPage/4221.02013 ; see also Disability in Australia: changes over time in inclusion and participation factsheets: community living, education and employment: www.aihw.gov.au/getmedia/34f09557-0acf-4adf-837d-eada7b74d466/Education-20905.pdf.aspx
[2] For example, vested interest in segregated education continue to seek to characterise the idea of a single, universally accessible inclusive education system as "utopian" and advance the position that segregating practices are compatible with inclusive education:
"This misconception that inclusion refers to a place and not a process is very pervasive. The current Australian view is restricted to the concept of an inclusive school as a place where everyone belongs, is accepted, and where special education needs students are supported and cared for by their peers and other members of the school community. This is a Utopian view, where there are no references to the processes and learning environments needed to achieve authentic educational outcomes for all students." ("Towards inclusion: an Australian perspective" by F Forbes (2007))
[3] See "Inclusive Education – What Does the Research Say?", All Means All (2017) https://allmeansall.org.au/research/
[4] See "Gatekeeping and restrictive practices with students with disability: results of an Australian survey" (2017), Shiralee Poed, Kathy Cologon and Robert Jackson: https://allmeansall.org.au/wp-content/uploads/2017/10/TIES-4.0-20172.pdf
___________________________________________________________
You can visit our website for more information at  www.allmeansall.org.au 
For queries contact  hello@allmeansall.org.au